Roos Holleman
Study skins, fly lures, masks and other curious objects dominate my pastel drawings. I consider my work to be exercises of attention: Studies of subjects, of their details, their being and their place in the world. Stroking is an act of affection. Drawing, creating a cacophony of strokes, connects me in that intimate way to my fascinations. They are subjects with a tactile exterior, but often with something going on underneath their surface. I am a kind of shaman, using crayons to blow life into un-living things. I am also a pathologist, performing optical autopsies on paper. Both are looking for the extraordinary in the ordinary and the ordinary in the extraordinary. The devil is in the details.
Roos Holleman (1989) lives in Copenhagen and works in the Netherlands and Denmark.
Book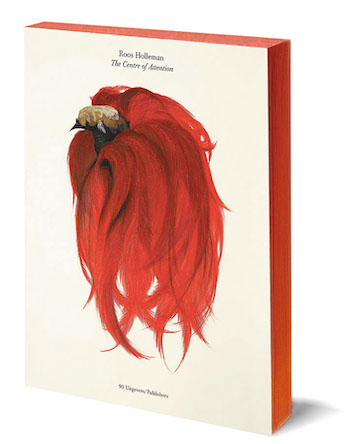 The Centre of Attention
Released April 2019.
To purchase a copy of the book, please send an email to mail@roosholleman.nl.
Price: 40 EUR or 300 DKK (plus postage).
CV
Born 1989 in Tilburg, The Netherlands.
Lives in Copenhagen, Denmark.
Works in the Netherlands and Denmark.
Education
2008-2012
Bachelor of Fine Arts
AKV | St. Joost, Breda, The Netherlands
Exhibitions
2018
De Aard der Dingen
Group exhibition
Rijksmuseum Twenthe
Tapis Volant
Group exhibition
Galerie La Ferronnerie
2017
Apperances
Solo exhibition
Galerie La Ferronnerie, Paris FR
On Display
Solo exhibition
Luycks Gallery, Tilburg
Beyond the Horizon
Group exhibition
Paviljoen Welgelegen, Haarlem
2016
On some shelf of the universe
Group exhibition
Luycks Gallery, Tilburg
Jump! Group exhibition
Van Abbemuseum, Eindhoven
Calculation
Group exhibition
Kurgan Regional Art Museum, Kurgan RU
Kingdom come
Group exhibition
The Art Project, Maastricht
Museum mythologies
Solo exhibition
Godsbanen, Aarhus DK
Bij het zigzagpad
Group exhibition
Kunsthal Boschveld, 's-Hertogenbosch
Prospects & Concepts
Group exhibition
Van Nelle Fabriek, Rotterdam
2015
Still lives without swagger
Solo exhibition
JanKnegt Gallery, Laren
A Joy Forever
Group exhibition
Luycks Gallery, Tilburg
Depotschatten
Solo exhibition
Natuurmuseum Brabant, Tilburg
Gestold leven
Duo exhibition with Matthias Schaareman
Luycks Gallery, Tilburg
TO THE ZOO
Group exhibition
Kers Gallery, Amsterdam
Daar Komen de Putters!
Group exhibition
Museum Kasteel Keukenhof, Lisse
Cultuur op de Campus
Solo exhibition
Radboud University, Nijmegen
A Thing of Beauty
Group exhibition
Luycks Gallery, Tilburg
2014
Nordkraftudstillingen 2014
Group exhibition
Kunsthal Nord, Aalborg
Kunstkabinet
Group exhibition
Boterhal, Hoorn
7 jonge schilders naar Zundert
Group exhibition
Vincent van Goghhuis, Zundert
Jump!
Group exhibition
Brabants Kenniscentrum Kunst & Cultuur, Tilburg
Vergezicht
Group exhibition
Studio Fika, Breda
Drawings/Etchings
Solo exhibition
Cafe Berlijn, Tilburg
Mens, Dier, Plant, Steen
Group exhibition
Circa…dit, Arnhem
2013
Drawn from Nature
Solo exhibition
Luycks Gallery, Tilburg
House of Talent IV
Group exhibition
Galerie Tydeman, Eindhoven
Kunst op de Koffie
Group exhibition
Spijkerkwartier, Arnhem
Ex-positie
Group exhibition and residency
De Fabriek, Eindhoven
Voorjaarssalon 2013
Group exhibition
Pulchri, Den Haag
Nocturn Alley
Solo exhibition
't Hijgend Hert, Breda
Beeldrijm in vaste collectiepresentatie
Group exhibition
Museum voor Moderne Kunst, Arnhem
2012
Winterexpositie bij Tydeman
Group exhibition
Galerie Tydeman, Utrecht
Freemde Fogel Festival
Solo exhibition
Den Hout
New Nature
With Elise le Pair
Galerie Cultural Speech, Amsterdam
Dutch Design Week
Group exhibition
Galerie Tydeman, Eindhoven
Najaarssalon 2012
Group exhibition
Pulchri, Den Haag
Vogels
Solo exhibition
Amphia Ziekenhuis Molengracht, Breda
Open Source Exibition
Group exhibition
Koepelhal, Incubate festival, Tilburg
Jong talent in de watertoren
Group exhibition
De Watertoren, Oostburg
Eindexamenexpositie Autonome Beeldende Kunst 2012
Group exhibition
AKV/St. Joost, Breda
Blauwe Maandag #2: Het papegaaienmuseum
With Brenda Tempelaar
Lokaal 01, Breda
Specimen/Stilleven
Solo exhibition
Lokaal 01, Breda
Breaking the wall
Residency and group exhibition
De Fabriek, Eindhoven
2011
Hans Brinker Budget Trophy 2012
Group exhibition
Hans Brinker Budget Hotel, Amsterdam
Maar… enzovoorts
Group exhibition
Lokaal 01, Breda
Public collections
Natuurmuseum Brabant, Tilburg
Centraal Museum, Utrecht
Vincent van Goghhuis, Zundert
Museum Arnhem
Lievensberg Ziekenhuis, Bergen op Zoom
Reade, Amsterdam
Residencies
ARoS kunstmuseum, Aarhus
1 January ─ 31 March 2017
Tækker AiR, Berlin
1 January ─ 31 January 2016
Vincent van Goghhuis, Zundert
1 May ─ 1 June 2014
Museum voor Midden Afrika, Tervuren
21 October ─ 25 October 2013
De fabriek, Eindhoven
January 2012
April 2013
Fairs
PAN Amsterdam 2018 with JanKnegt Gallery
PAN Amsterdam 2017 with JanKnegt Gallery
Art The Hague 2017 with Luycks Gallery
Drawing Now Paris 2017 with JanKnegt Gallery
PAN Amsterdam 2016 with JanKnegt Gallery
Art The Hague 2016 with Luycks Gallery
KunstRAI Amsterdam 2016 with JanKnegt Gallery
Realisme Amsterdam 2016 with Luycks Gallery
PAN Amsterdam 2015 with JanKnegt Gallery
Art The Hague 2015 with Luycks Gallery
KunstRAI Amsterdam 2015 with Luycks Gallery
RAW Art Fair Rotterdam 2015 with JanKnegt Gallery
PAN Amsterdam 2014 with JanKnegt Gallery
RAW Art Fair Rotterdam 2013 with Gallery Cultural Speech
Videos
Press